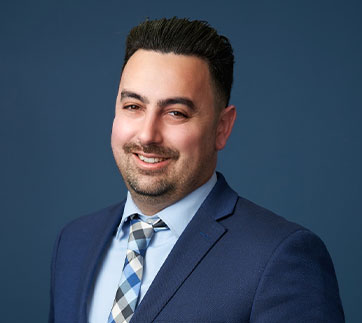 Learn More About Attorney Kevin Burton
---
Kevin M. Burton is one of The Rubinstein Law Firm's newest attorneys on staff. Kevin is an avid gearhead, having studied Automotive Technology in High School at Gloucester County Institute of Technology. Kevin continued his passion, graduating from Rutgers University in New Brunswick, New Jersey in 2014 with a Bachelor of Science majoring in Mechanical Engineering.
Kevin went on to work for a Tier One Automotive Manufacturer as a Product Development Engineer, while attending the University of Detroit Mercy School of Law full-time as a night student, where he received his Juris Doctor degree in 2018. Kevin was the recipient of the Certificate of Merit for top honors in the Intellectual Property Prosecution Clinic as well as in the study of Tort (Personal Injury) Law.
Away from the office, Kevin spends as much time turning wrenches as possible. Kevin holds an automotive dealer's license and in his free time, enjoys buying, fixing, and selling various unique cars and trucks. Kevin also enjoys spending time with his three dogs, and currently resides in Northville, MI.
Practice Areas
Automotive Law and Litigation
Landlord/Tenant Law
Past Positions
Brooks Kushman, P.C.
Patent Searcher
Ford Motor Co.
Product Development Engineer
Calpine, Inc.
Power Generation Engineering Intern
Education
University of Detroit Mercy School of Law
Juris Doctor
Honors: Certificate of Merit for top honors in Intellectual Property, Tort Law
Major: Intellectual Property
Detroit, MI - 2018
Rutgers University
Bachelor of Science in Mechanical Engineering
New Brunswick, NJ - 2014
Licensure
State Bar of Michigan Admitted March, 2023
Federal Bar for the Eastern District of Michigan Pending Admission
Federal Bar for the Western District of Michigan Pending Admission