Criminal Defense for the People of Michigan, Based in Farmington Hills
If you are facing criminal charges, you're also facing one of the most stressful situations of your life. During this time, you deserve dependable counsel dedicated to alleviating that stress and defending your future. Whether you have been charged with a felony or a misdemeanor, a violent or a nonviolent crime, your freedom is on the line—and protecting it requires insight, empathy, and fierce judicial skill.
At The Rubinstein Law Firm, we have almost two decades of experience in the aggressive defense of those charged with crimes in metro Detroit, and we understand what it takes to stand up for your rights. Our firm promises to be your advocate in court while treating you with dignity and compassion.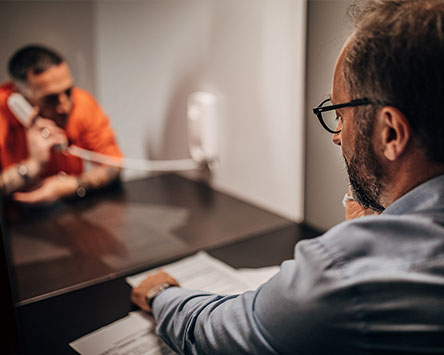 Addressing Felony & Misdemeanor Charges
Michigan law breaks down criminal offenses into two broad categories: misdemeanors and felonies. Misdemeanor crimes could mean a defendant receives up to one year in jail if convicted. As a more serious category of crime, felony convictions carry more substantial penalties and longer prison sentences—at least a year or more.
We have successfully defended clients in the criminal justice systems of Michigan, Florida, and Pennsylvania. Our criminal defense practice areas include:
Larceny & theft
Domestic violence
Drug crimes
Weapons offenses
Assault & battery
Manslaughter & murder
Public intoxication & disorderly conduct
Criminal Defense FAQs
Should you remain silent with police?
Yes—you have a constitutional right to remain silent, and we recommend that you exercise that right. Until you hire an attorney, it's best to avoid saying anything to the police other than basic information about your identity.
Officers will often try to use anything you say to them against you in court. Even something that seems innocent at the time can be misconstrued to harm your case. Invoking both your right to remain silent and your right to an attorney as soon as possible can vastly improve your chances of receiving the best possible outcome in your case.
Do I need to hire a criminal defense attorney if I plan on pleading guilty?
Yes—even if you committed the crime you've been charged with, it's wise to hire experienced legal counsel. You will still have to go through a court hearing, in which prosecutors will attempt to bring the harshest possible penalties against you. The Rubinstein Law Firm can help you navigate your options and fight for a better outcome, including lighter sentencing, entering a plea bargain, minimizing the charges against you, or, in some cases, having the charges dismissed.
Are you supposed to tell your defense attorney the truth?
Your best strategy in any criminal case is to hire an experienced defense attorney and tell them everything—the truth, the whole truth, and nothing but the truth. Your relationship with our team will be privileged, meaning it is confidential and protected.
We can be the best advocates for your future if we know all the details of the case, and we would never provide lesser representation or judge you negatively because of what you share with us. Our job is to fight for you and protect your rights, no matter what.