Negligence Actions & Personal Injury in Farmington Hills, MI
If you suffer an injury due to the carelessness of another person or while you're on their property, it can be devastating—physically, emotionally, and financially. You know firsthand how incredibly disruptive these situations are to your life and livelihood. But while your suffering may seem clear to you, legally proving negligence isn't easy. That's where we step in.
At The Rubinstein Law Firm, we work hard to prove the property owner's duty and negligence, fighting to help you obtain the resolution you deserve. From our office in Farmington Hills, we assist clients across the region with their concerns and provide the comprehensive litigation experience necessary to help resolve these matters.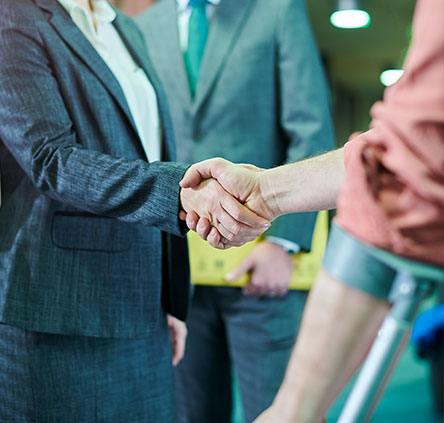 The Strength of Litigation to Fight for Damages
After you've been affected by the negligent actions of another, it's natural to be worried about the future. Injuries may require extended recovery time and rehabilitation. If you have a permanent disability, you may need lifelong care. Our lawyers understand this reality, and we will advocate vigorously for damage compensation to cover your long-term needs.
As a leading litigation firm in the metro Detroit area, The Rubinstein Law Firm will do everything in our power to recover damages in your case. Our litigation skills can strengthen your position in seeking a positive outcome. Too often, insurance companies and third parties are quick to settle, paying out minimal compensation. We help our clients parse through the offers, and when necessary, we step into the courtroom and fight.
Remember, under Michigan law, you only have three years from your accident to initiate a personal injury claim. You deserve to get the help you need to move on with your life. Don't hesitate—call our team today to review your case.
Negligence Action FAQs
What is an example of negligence action?
Let's talk about an increasingly common negligence action: a driver causing a car accident because they were texting. In this scenario, the driver had a duty of care to operate their vehicle safely and to obey traffic laws. However, by choosing to text while driving, the driver breached their duty of care. As a result, they caused the accident and may be liable for any damages or injuries caused to other drivers, passengers, or pedestrians involved in the accident.
Negligence actions can occur in many other contexts as well, such as in medical malpractice cases, slip-and-fall accidents, product liability claims, and more. In each case, the plaintiff must prove that the defendant had a duty of care, that the defendant breached that duty, and that the breach caused the plaintiff's injuries or damages. If successful, the plaintiff may be entitled to compensation for their losses.
What is the difference between negligence and an accident?
An accident is an unexpected or unforeseeable event that occurs without anyone's fault or intention. For example, a tree branch falling on a car during a storm could be considered an accident because it was not caused by any human action or negligence.
Negligence, on the other hand, refers to a failure to act with reasonable care, which leads to harm or injury to another person. In other words, negligence involves a breach of a duty of care that a reasonable person would have exercised under similar circumstances.
As you can see, there is a significant potential for gray area in these cases—space that insurance companies are all too happy to take advantage of. If you believe another person's action or lack of action led to your injury, you need an attorney who can prove that negligence and fight for the compensation you deserve.
Should I take the first offer on an insurance claim?
It isn't always necessary or advisable to accept an insurance settlement. Insurance companies will always try to do the bare minimum and may overlook the true extent of your damages. It's best to consult with an attorney as soon as possible, who will negotiate on your behalf and ensure that you are getting a fair offer.
If we cannot come to a reasonable agreement, The Rubinstein Law Firm is prepared to go to battle for you in court. While we'll do everything in our power to settle out of court, we won't back down if and when this path becomes necessary.